https://lh4.googleusercontent.com/-ymgw2SjcZhc/UpaGfYR4-bI/AAAAAAAAAb0/_NkJhfqpTjY/s1024/2013%25252C%25252023%25253A02.jpg
Farmer's markets are still an important part of life here in Portugal. You can get every thing you need to prepare healthy fare: fresh fruit, vegetables, bread, dried fruits and beans, meat, fish, jams, and honey, as well as potted plants, flowers and starter plants. I love to go to the Cascais market and sometimes go after walking on the paredão on Saturday mornings.
Today we went to the market in Campo D'Ourique to check out their renovated market and found that it was less traditional and attracting more than housewives. The idea was simple. The redesigned market included traditional market stalls and food stalls in the same space. The center of the market provided seating for lunches, snacks and dinner. Although found in other cities, this is a pretty mod and groovy concept for Lisbon.
We had lunch and the hamburgers were really good. Although the smooth music in the background set a nice tone, the downside was that the logistics of the space were chaotic. The food stalls didn't serve beverages so you had to go elsewhere for drinks. Well, ok but it went a bit too far when you had to order your food from one stall and return to pick it up in 10 minutes and in the meantime search for a stall where you buy drinks only to find the drink stalls were not full service either and you could get only soft drinks and beer at one bar and needed to get wine from another stand, all the while hoping that a seat would be available when you collected all the necessary components for your lunch.
Anyway, I liked the new market and was grateful that my hamburger was excellent and that we were able to find a table and relax.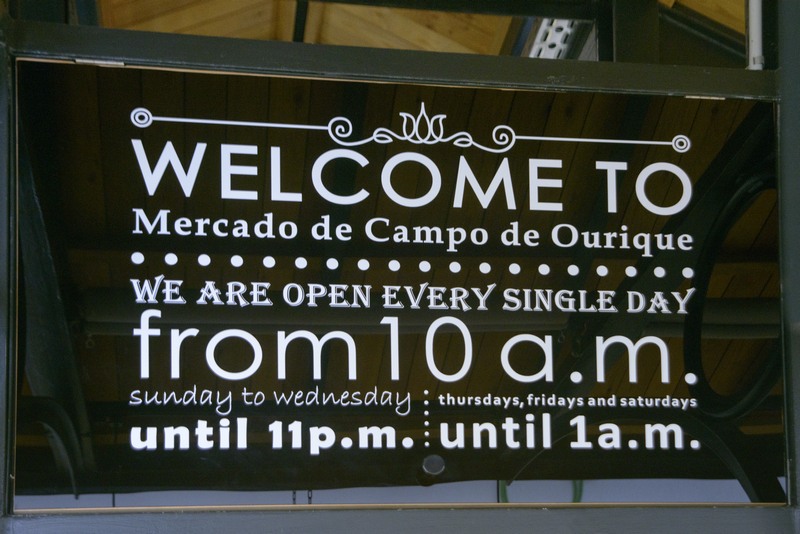 http://www.cm-lisboa.pt/uploads/pics/LFP_0650_MercadoCampoOurique.jpg